> Operations > E&P worldwide > AMERICAS > Canada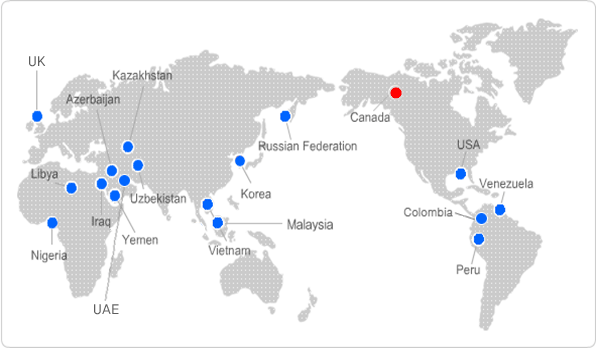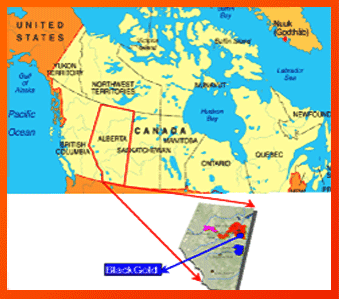 | | |
| --- | --- |
| | Overview |
BlackGold Oil Sands Project is the first venture of KNOC into a Canadian project. KNOC would like to place great emphasis on the vision that it would be a foothold onto the development of heavy oil estimated to be more than Ten Trillion (10,000,000,000,000) barrels in reserve size worldwide, as well as the Canadian oil sands. To make this vision come true, first of all, KNOC will do its best successfully to develop and operate the BlackGold Project, and also to acquire additional oil sands projects.

| | |
| --- | --- |
| | BlackGold |
(As of Sep. 2014)
Block

Contract

Acreage
(㎢)
Working
Interest

Operator

Production
2014(bopd)

Phase

BlackGold
Oil Sand

Lease

39

100%

KNOC

N/A

Development
KNOC acquired BlackGold Oilsands Lease, which is located 140km southeast of Fort McMurray within the Athabasca Oil Sands region of northern Alberta, from Newmont Mining Corporation in August, 2006. Its recoverable bitumen reserves are expected to be approximately 259million barrel.

Since our participation in last August, 2006, we drilled 70 core holes for core analysis, 16 water supply wells to test the capability of water production for steam generation and 30 production and injection wells for preparing production. And we acquired 23 ㎢ (square kilometers) of 3D (dimensional) seismic data for the further evaluation.

We have been performing the reservoir modeling based on the 54 pre-existent core hole data acquired by former operator and the new data recently acquired by KNOC.

The production facilities are currently under construction, and the initial production is scheduled 2nd quarter of 2015. We are planning to expand the volume to 10,000 barrels per day by 2017.
Production Management Contacts

| | | |
| --- | --- | --- |
| Department : Production Operation | Contacts : +82)31-380-2799 | Updated : 2014-09-30 |
| | |
| --- | --- |
| | Harvest |
(As of Sep. 2014)
Block

Contract

Acreage
(㎢)
Working
Interest

Operator

Production

Sep
2014(bopd)

Phase

Harvest
Operations Corp.

-

-

100%

KNOC

42,000

Production
On 22th October 2009, KNOC signed the contract to acquire Harvest Energy for US$3.95billion(C$4.07billion) which has about 200 million barrels of oil and gas production fields, oil sands property and concluded the deal on 22th December 2009.

As one of the major Canadian oil company headquartered in Calgary, Canada, Harvest Operations Corp. is producing around 42 mboe/d oil and gas (Sep 2014) from upstream properties in Alberta, British Columbia, Saskatchewan province in Canada and acquired Hunt asset on 28th Feb 2011 whose production is around 11 mboe/d.

Harvest Operations Corp.. has a lot of expertise in various areas ; exploration and development technology on oil-sand & CBM, enhanced oil recovery technology (EOR) including Water Flooding, Polymer Flooding, CO2 Flooding, horizontal drilling Multistage Fracturing skill.

Through this acquisition, KNOC not only increases its own reserve and production but also secure expertises related to petroleum.
Production Management Contacts Updated

| | | |
| --- | --- | --- |
| Department : Production Operation | Contacts : +82)52-216-3729 | Updated : 2014-09-30 |