KNOC established the vision 'Global Energy Enterprise Leading Energy Security and Carbon Neutrality', and has been promoting social contribution by reflecting features and social needs.
Social contribution in 3 fields
KNOC selected three key fields, energy, safety & environment, and multicultural families and the disabled and established social contribution policies based on those three key fields. KNOC endeavors to make a society where everyone lives in harmony as the 'warmhearted public energy enterprise' through a variety of policies and partnerships.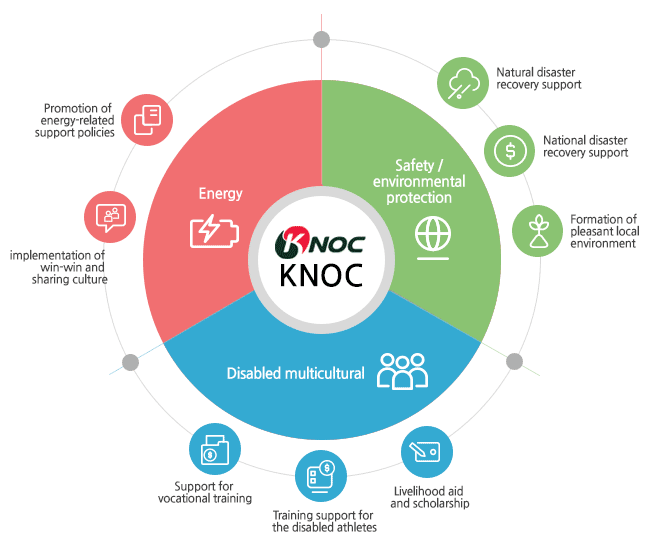 1. Energy-related support policies
KNOC implements a mutual prosperity and sharing culture through a wide range of energy-related support policies suitable for its features as an energy enterprise. KNOC has been supplying heating facilities to the neglected in winter and kerosene for heating through frugal gas stations. Moreover, KNOC has been replacing LED lamps for residents around its branches free of charge.
2. Safety and environment protection support policies
KNOC actively endeavors to overcome national disasters including the COVID-19 pandemic and support recovery efforts from natural disasters including typhoons and forest fires by preparing fund through donations from officers and employees. Furthermore, KNOC devotes itself to creating a safer and more pleasant community by supporting safety appliances for local traditional markets and ocean clearance activities, including KNOC plogging, and neighboring village environment improvement around its branches through the mutual prosperity cooperation funds for agricultural and fishing villages.
3. The disabled and multi-cultural family support policies
KNOC supports vocational training for disabled youths and disabled athletes by employing them. In addition, KNOC provides livelihood aid and scholarships to multi-cultural families. Through such activities, KNOC implements progressive support policies for the disabled and multi-cultural families in the blind spot of welfare programs.
Partnership with local authorities and relevant organizations
KNOC concentrates diverse efforts for local community and the activation of the local economy with a wide range of organizations, including local authorities and welfare organizations. First of all, KNOC supports neglected residents by purchasing agricultural products and products from social economy companies. Moreover, KNOC supports sharing kitchen projects, environment cleaning activities in the parks around KNOC and participates in the making of 'Street of Light'.