Mid-sized CCS demonstration project using the Donghae-1 depleted gas reservoir
| | |
| --- | --- |
| | What is Carbon Capture and Storage(CCS)? |
CCS is the only proactive means for greenhouse gas reduction. It includes 3 major stages: 1)capture CO₂ from industrial emission sources, 2)transport to the injection site, and 3)inject into safe geologic formations for permanent storage. Many aspects of core technologies in CCS have a lot in common with E&P technologies in the oil and gas industry. Not Surprisingly, global oil and gas companies are leading in the forefront of CCS businesses.
| | |
| --- | --- |
| | Why do we need CCS? |
In an effort to reduce the level of Greenhouse Gas(GHG), Korean government signed the Paris Agreement in 2015. Korean government submitted the updated and enhanced NDC which is to reduce total GHG emissions by 40% from the 2018 level by 2030. In the line of this effort, the government released the "Korean Green New Deal" that includes R&D projects for large-sized CCUS demonstration, and it eventually announced the "Carbon Neutrality by 2050"" in October 2021. Among many other technologies for CO₂ reduction, CCS is the most preemptive one that will contribute to achieving our target for GHG reduction and carbon neutrality by 2050.
* CCUS: Carbon Capture Utilization and Storage. The concept of CCUS includes "Utilization" in which CO₂ is converted to valuable industrial material, for example.
| | |
| --- | --- |
| | Where we are now? |
KNOC takes part in the government-led "Multi-department large-scale CCS demonstration project and the commercialization for CCU". KNOC is aiming at injecting 0.4 million ton of CO₂ per annum(tpa) into the Donghae-1 gas reservoir ceased in end of 2021.
| | |
| --- | --- |
| | CCS project outline |
| | |
| --- | --- |
| Project | Mid-sized CCS demonstration project using Donghae-1 gas field |
| Size | 0.4 Mtpa |
| Site | Donghae-1 gas reservoir including offshore production facilities |
| Duration | [R&D]2021~2023, [Construction] 2024 ~ 2026, [Operation] 2026 ~ 2055 |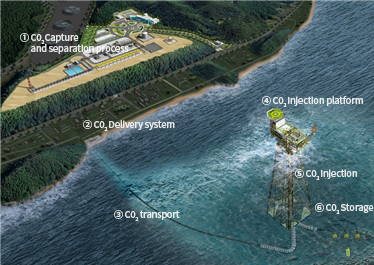 [CCS project outline]
Department Contacts Updated

| | | |
| --- | --- | --- |
| Updated : 2023-02-03 | Department : ESG Dept. | Contacts : +82)52-216-5565 |