Low-Carbon Hydrogen·Ammonia Project
| | |
| --- | --- |
| | Background of the project |
Ammonia is easy to store and transport by liquid phase because of similar properties to LPG, and it can be used not only as a hydrogen carrier but also as a low-carbon fuel. For this reason, low-carbon ammonia is expected to play a key role in achieving the goal of Net-Zero and realizing the Hydrogen Economy.
| | |
| --- | --- |
| | Where are we now? |
Along with a new vision,『Global energy company leading Energy Security and Net-Zero』, KNOC is promoting to import, stockpile and distribute low-carbon hydrogen·ammonia utilizing their E&P and oil stockpiling&distribution business capabilities.
- Securing overseas suppliers utilizing networks with major oil&hydrogen producing countries.
- Securing overseas production fields utilizing E&P business capabilities.
- Constructing hub terminals and stockpiles utilizing oil stockpiling and distribution business capabilities.
| | |
| --- | --- |
| | Project outline |
Kind
Content
Project
Construction of low-carbon ammonia distribution infrastructure (Pilot and Main project)
Capacity
[Pilot] Infrastructure for 300K ton/year
[Main] Construction of terminals and pipeline for four regional bases
Duration
[Pilot] `22~`25(Construction), `26~(Operation)
[Main] `23~`28(Construction), `29~(Operation)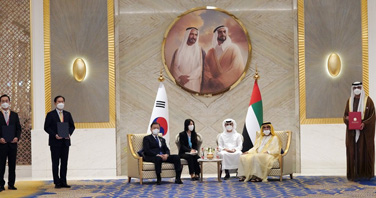 [Korea-UAE Low-carbon hydrogen·ammonia Joint Study Agreement (`22.01)]
Department Contacts Updated

| | | |
| --- | --- | --- |
| Updated : 2022-03-16 | Department : ESG Dept. | Contacts : +82)52-216-5543 |